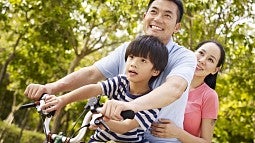 The Child and Family Center is a center within the Prevention Science Institute that provides a wide range of research-based services. These services are designed to help families navigate predictable and sometimes challenging periods during a child's life.
The Child and Family Center offers assessment, intervention, and referral services for children ranging from age 2 through 17 years. The low-cost services are appropriate for parents concerned about children and teenagers experiencing difficulties at school, home, or both. The approach is family-centered, with special attention given to supporting parents as they learn to address the multiple needs of their children.
Parents can actively select the services that best fit their family's needs. Both brief, problem-focused interventions and longer-term supportive interventions are available.
Find out how the CFC can help your family
"The therapists really helped me. I liked how they were really nice and could relate to a lot of problems that I had. Everything was great." - 11-year-old male