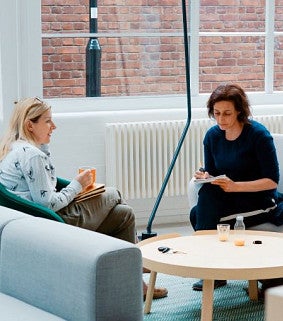 What is a "family centered" approach?
We believe that parents are the key agents of change in their families. We are guided by a model referred to as the "ecological" model, which suggests that children grow up in a variety of contexts, including family, school, and community. Mental health and wellness for children begin by evaluating children in the context of their lives.
What is the Family Check-Up?
When families start mental health services with us, we offer an evidence-based assessment that provides an in-depth look at relational functioning in your family. This evidence-based assessment is called the Family Check-Up which allows us to identify target goals to work on at the beginning of treatment. It also helps us pinpoint things that your family might be doing well already (e.g., strengths) and identify areas that you might want to focus on (areas of growth).
Who will my therapist be?
Our clinic is run primarily by advanced doctoral candidates in our Counseling and School Psychology Doctoral programs housed in the College of Education at the University of Oregon. Therapists are supervised by licensed clinical faculty, and every therapist receives about 2-3 hours of supervision per week.
Sessions are video recorded for supervision. This is to ensure that our staff are providing the best treatment possible to the families we serve. Recordings are only viewed by therapists and supervisors and are otherwise kept private and are protected by law.
What services does the CFC not offer?
We are not associated with a medical center, so we are not equipped to offer on-call services for crisis management or prescribe medications.
We are not able to help families in any legal disputes because our clinicians are graduate students. This is most relevant for custody evaluations or if families are involved with child welfare and would like us to provide support in a legal setting.
Do you take insurance? How much do sessions cost?
We do not take insurance, but sessions are offered for a sliding scale fee, families pay what they can for services. We do not pressure families to pay any specific amount.
We recommend that parents pay at least $1 if possible, because this has shown to increase engagement in services. However, we serve families from every level of socioeconomic background and will respect what you decide to pay for sessions.
What are your hours?
Weekdays, 9am-7pm.
Appointments are also available on weekends as needed.
Do I need to arrange a babysitter for my kids that are not receiving services?
We offer on-site sibling support for children whose parents and siblings are receiving therapeutic services.
What if I have to cancel my session?
If you want to cancel an Intake session - call the clinic at (541) 346-4910
If you want to cancel any subsequent sessions you can contact your therapist(s) directly.