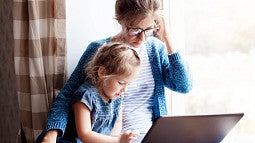 When stay-at-home orders went into place in early 2020, the Prevention Science Institute (PSI) was reminded of its core mission: to understand and promote healthy adaptation in children and families, with particular emphasis on the dissemination of effective interventions in real-world settings. The problem was, the "real-world" was quickly and drastically changing.
With PSI's research being predominantly person-based, the scientists quickly realized that the typical methods of interventions delivered in homes, classrooms, small groups, and one-on-one would need to be adapted. Faced with the prospect of not being able to conduct research in person, PSI researchers realized that innovative services were needed now more than ever.
Thanks to the ingenuity and hard work of countless researchers, collaborators, administrative staff, students, families, and individuals, PSI has pivoted with speed and professionalism. PSI has recognized not only their moral obligation to provide services to families in need, but the opportunity our current situation presents for the legitimization of online and web-based interventions.
As an example of PSI's quick response, in July, Drs. Leslie Leve, Hannah Tavalire, and Camille Cioffi worked together with scientists in UO's Biology Department and Genetics and Cell Characterization Core Facility to lead the UO's COVID Monitoring and Assessment Program (MAP). The aim of this work is to increase the ease of COVID-19 testing using painless self-collection methods, like saliva or a self-collected nasal swab, rather than the deep nasal swab methods used by medical providers. The team has been working alongside multiple state agencies, including Lane County Public Health, to implement these alternative testing methods in the community, with plans to make them available to more individuals and communities in the coming months. With additional leadership from Dr. Elizabeth Budd, the team is preparing to culturally tailor testing efforts by applying lessons learned from analyzing interviews with key community stakeholders.
Dr. Leve's leadership is just one example of how the PSI has responded to this global pandemic. Researchers throughout the institute have adapted interventions, deliveries, recruitment, partnerships, and working condition. They continue to find ways to advance both research and the health and well-being of children and families across the lifespan.